Our Team
We're a team of dentists and dental professionals who have come together to serve patients in the community we love and we strive to excel at what we do. We're committed to ongoing learning and compassionate care - and our reward is seeing you smile. We're grateful you've chosen Larry Uteck Dentistry and we look forward to serving you.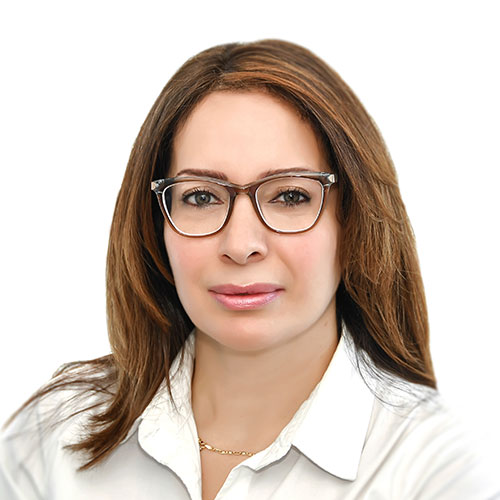 Dr. Nada Abdalla
Dr. Nada studied dentistry at Damascus University, and after graduation she completed a three-and-a-half-year residency program in prosthodontics. She has practiced dentistry in Syria, Saudi Arabia, and the United Kingdom. She and her husband moved to Manchester, UK after her residency, where she practiced dentistry in local hospitals. While she was in Manchester she provided comprehensive patient care in conservative and restorative dentistry. A believer in continuing education, Dr. Nada has taken extensive courses and training to maintain and enhance her expertise. She has a special interest in cosmetic dentistry.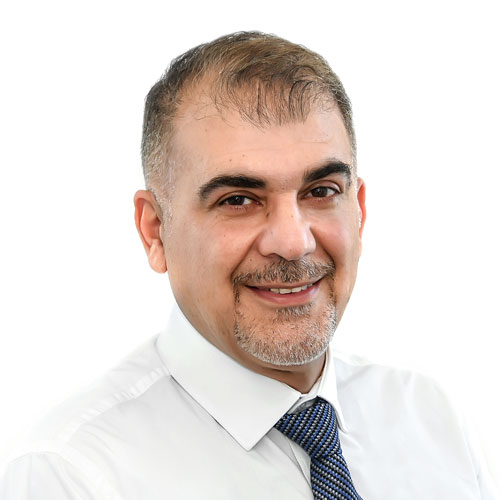 Dr. Yaser Issa
Dr. Yaser has an extensive academic background in dentistry. He holds a Doctor of Dental Surgery degree from Damascus University, along with a Diploma of higher studies and a Master's degree; a PhD in fixed prosthodontics and oral medicine from the University of Manchester, UK; and a DDS from Dalhousie University. At Dalhousie he received awards for his table clinic project and in conservative dental treatment.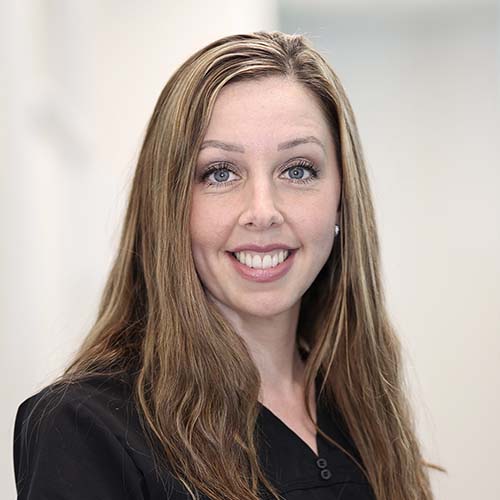 Samantha
Registered Dental Assistant/ Assistant Manager
Samantha is our Registered Dental Assistant who is dedicated to patient care. She is a loving wife and mother of three wonderful daughters, Georgia, Ember and Delaney. Her household is also blessed with two cats named Bailey and Dixie and their adorable dog, Dakoda.
Samantha graduated from NSCC - IT in 2015 as a Level II Dental Assistant. She Joined our team in October 2019. She brings years of dental assisting and patient care experience with her.
She loves everything about dentistry, and she focuses immensely on providing the best patient experience. As a Dental Assistant, she collaborates with our dental team to ensure our patients receive the care and comfort they need during their visits.
Outside of work, she enjoys spending quality time with her family and friends. She can be found camping, spending time in Cape Breton, and exploring the great outdoors with her loved ones.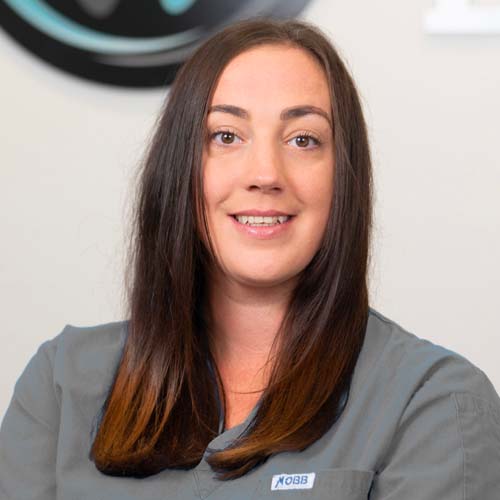 Alexandra
Registered Dental Assistant
Alexandra graduated from NSCC-IT in 2015 as a Level II Registered Dental Assistant. She joined our team in September 2021. She brings 6 years of experience. Alexandra grew up in Bedford N.S and enjoys taking hikes with her dog Nova and boyfriend Terry. Outside of work, Alexandra can be found water fishing with her boyfriend, or spending time with family and friends.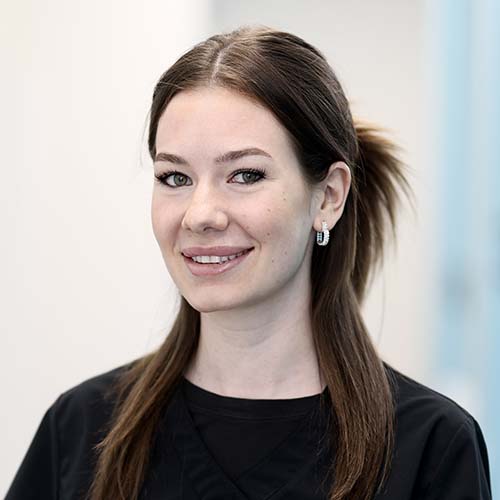 Catherine (Cat)
Registered Dental Hygienist
Cat is our Dental Hygienist. She joined our team in April 2023. Cat graduated from the Toronto College of Dental Hygiene with a Diploma of Dental Hygiene.
Cat enjoys spending time with her boyfriend Daniel and playing with her kitten Teddy.
Cat grew up in Sackville N.S with her two sisters and loves the beach in the summer. Sukhvir
Registered Dental Hygienist
Sukhvir is our Dental Hygienist. She joined our team in July 2023. She graduated from Dalhousie University with Diploma of Dental Hygiene.
She enjoys spending time in nature, reading books and cooking.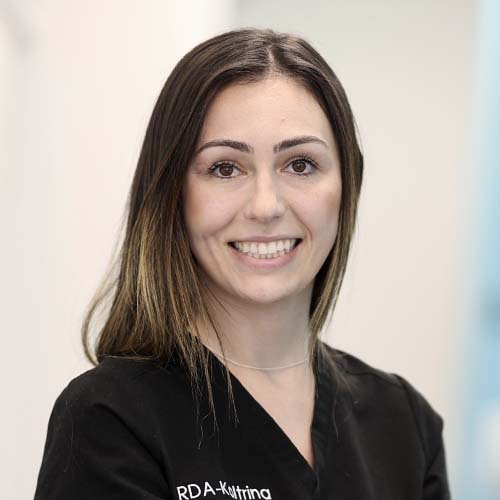 Kaltrina
RDA
Kaltrina is a graduate of NSCC. She completed her Business Administration with a concentration in accounting in 2016. Soon after she graduated from the Dental Assisting Program and is now a Registered Dental Assistant.
Kaltrina's favourite thing about her job is the interaction with our patients, and knowing that we are helping them be healthier. Our favourite part about having Kaltrina on the team is her warm and caring demeanor that instantly puts patients to ease.
Kaltrina's biggest joy is her family especially her 2 nephews and niece. When she's not in the clinic, Kaltrina enjoys being outdoors, exploring and keeping active. Kaltrina also has a passion for photography; she loves spending most of her weekends taking photos for families and weddings.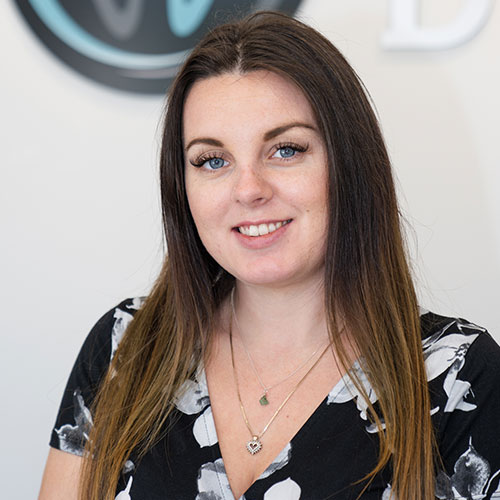 Sierra
Office Administrator
Sierra joined our team in August 2021. She graduated from Success College in 2019 with a certification in Dental and Medical Administration. Sierra is our Dental Administrator who is balancing a thriving dental practice with a loving husband, three amazing kids, two adorable dogs and two cats.
Sierra is passionate about healthcare administration and is dedicated to keeping our dental practice running smoothly. From appointments to patient records, she ensures our patients receive top-notch care. She navigates the balancing act of work and family together seamlessly. Beyond work and family, she enjoys photography, hiking and going to the beach.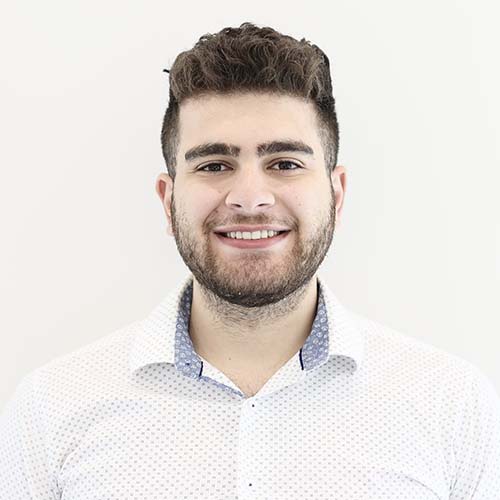 Jad
Office Administrator
Jad joined our team in May 2022. He is a recent graduate from Acadia University with a Bachelor of Science and Honours in Biology. Jad enjoys helping patients and providing a comprehensive understanding of their dental needs.
Jad enjoys spending time with family and friends, taking his dog Mozzie on hikes, and music in all forms! He played the piano for 9 years and is starting his vinyl collection. Jad is loving his new role as an Office Administrator and is excited to provide a satisfying experience at the dental office!